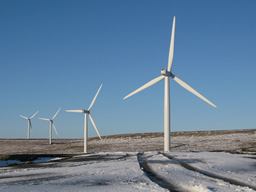 The UK Government has received a timely boost from German engineering company, Siemens, which plans to develop a new wind turbine plant in Britain. Aside from the obvious environmental benefits such a project would likely deliver, the new wind turbine is expected to generate hundreds of jobs locally.
Siemens has claimed that it will invest over £75 million into the development, which adds to the German company's existing UK projects, which include a global centre for offshore grid connections in Manchester and a wind power training centre in Newcastle. This news is of particular importance to the UK economy, not least because it secures hundreds of jobs as mentioned above but also in that it demonstrates the UK's ability to compete internationally in the green energy sector.
It is hoped that the new Siemens wind turbine plant will create around 700 jobs directly, in addition to 1,500 or more indirectly. The plant should also help local organisations and national energy suppliers reduce the costs of certain green energy initiatives, the savings from which may trickle down to consumers. News of Siemens investment in the UK green energy sector was made within days of GE's plans to invest £100 million into the industry, thus creating some 2,000 jobs. Although these projects constitute a step in the right direction as far as the country's climate change objectives are concerned, fears persist that Britain is not doing enough on the environmental front; in fact, according to the highly respected Professor James Lovelock, there is no longer time to save the planet.
Claiming in a recent interview that mankind cannot change the effects of global warming, the 90-year-old Professor Lovelock stressed: "We're not really guilty. We didn't deliberately set out to heat the world". The Professor also reasoned climate change is unlikely to fit any convenient models, so hopes of effectively monitoring and reacting to the environmental situation is ultimately futile. Professor Lovelock further argued that renewable energy technology, such as the kind to be invested in the UK by Siemens, makes perfect economic or business sense, but is not based on "good practical engineering"; in conclusion, the Professor believes that humanity's attempt to save the planet is a "lot of nonsense".