Scientists in the US have announced the development of carbon-only solar photovoltaic panels. Using only carbon to build the panels should significantly reduce production costs, as indium and silver, two of the main components of conventional panels, are more expensive to source.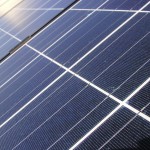 Another major benefit of using carbon-only solar PV is that manufacturers should be able to build entirely new designs. At present, solar arrays supplied to the domestic market consist of reasonably large, heavy panels that have to be installed on rooftops at a certain angle. By using carbon, solar cells can be created and applied in completely new ways.
The research team at Stanford University devised the project in order to reduce costs, but the new technology could lead to more innovative applications of solar PV; for instance, carbon-only solar cells could one day be used in a kind of paint or film to coat buildings, windows and other such surfaces. By introducing carbon-only solar cells in unusual places, more solar energy could be captured and used to produce electricity or heat and installation costs would be substantially reduced as a result.
In theory at least, the technological breakthrough could reinvigorate an industry that in some countries has stalled due to huge cuts in government subsidies.
Chemical engineering professor Zhenan Bao, who heads the Stanford University Research Team, explained: "Carbon has the potential to deliver high performance at a low cost.
"Perhaps in the future we can look at alternative markets where flexible carbon solar cells are coated on the surface of buildings, on windows or on cars to generate electricity. We have a lot of available sunlight. We've got to figure out some way to use this natural resource that is given to us".
The research team claims to use graphene structures and carbon nanotubes to replace every aspect of conventional solar cells, which use indium tin oxide and silver. Indium tin oxide is becoming especially difficult and expensive to source, so a switch to carbon would result in huge production savings. Perhaps of greater significance is graphene's ability to outperform indium tin oxide as an electrical conductor, which was discovered by Exeter University in May.