Figures published by the Department for Energy and Climate Change (DECC) suggest that fewer solar photovoltaic panels are now being installed in the UK than they were last year before the government implemented savage cuts to solar subsidies.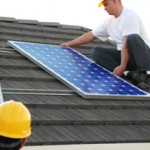 The DECC report shows that the weekly average of solar PV installations in April this year was down 54 per cent on the weekly average for April 2011.
In the last year, Government Ministers have successfully cut Feed-In Tariffs (FITs) from 43.3p/kWh to 21p/kWh. In August, the solar tariff, which is paid to organisations and households for units of electricity that are generated from solar panels and supplied to the National Grid, will drop to 16p/kWh. Further reductions can be expected as the manufacturing costs of producing solar panels falls.
The British Government hopes to increase the number of solar panel installations in the UK by 2020 in order to meet carbon emission targets. Solar panels reduce domestic and commercial reliance on fossil fuels, which emit harmful greenhouse gases when they are processed for energy. Providing a renewable source of electricity, solar panels also help to lower household energy bills.
Minister of State for Energy and Climate Change, Greg Barker, believes that Britain is on track to meet its environmental objectives. Comparing data from one week in April this year with the corresponding week last year, Mr Barker recently announced with confidence that weekly installations of solar panels had increased by 50 per cent over the year.
Putting Mr Barker's claim in context, the DECC's official figures show that the rate of solar installations as a weekly average fell by 54 per cent between April 2011 and April 2012. Comparing one week with another could be described as misleading, as this does not take into account the average rate but instead extrapolates an annual change on the basis of two seven-day comparisons.
Claiming that households still have good reason to install solar panels despite the cuts, Leonie Greene of Solar Trade Association said: "We would have liked a longer period for the solar market to recover before further tariff reductions are made. Nevertheless, the returns in August will still be attractive and solar will continue to make very good sense for householders".