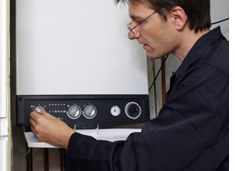 There are plenty of improbable partnerships in existence that somehow work: peanut butter and jam (or jelly, for those across the pond); Carla Bruni and Nicolas Sarkozy; and Tom and Jerry to name but a few. Last week, E.ON added another mismatched marriage to the list by announcing that customers of its Central Heating Care (CHC) plan will receive complimentary RAC Roadside Breakdown Cover. There are obviously few similarities between central heating cover and car breakdown insurance, but E.ON and the RAC have nevertheless chosen to team up to offer customers what is thought to be an entirely unique deal.
E.ON's comprehensive Central Heating Care packages cost from as little as £16 per month and include a variety of features designed to maintain a healthy and efficient central heating system. These features include: an annual service, safety checks, unlimited call-outs and a 24-hour helpline. CHC products cover plumbing, drains and electrics in addition to boilers, radiators, controls and hot water tanks. The complimentary RAC Roadside Breakdown Cover is worth more than £50 and customers in receipt of this service will receive a further 30 per cent discount on upgrades to higher levels of RAC cover.
Managing Director of E.ON's Property Services business, Adrian Harvey, said: "It can be just as frustrating if your boiler breaks down as if you're left on the roadside waiting for help. So, when you take out our Central Heating Care not only can you get 24-hour assistance with everything from a broken boiler to blocked drains and faulty wiring, you'll also receive complimentary RAC Breakdown Cover making sure you're completely covered home and away". Mr Harvey added: "Like a well tuned car, a well-maintained heating system runs more efficiently and cuts running costs and carbon emissions".
Senior RAC Sales and Marketing Manager, Gavin Talbot, commented: "The partnership between E.ON and RAC is the first step in building a reputable service for customers that ensures they are covered in the home and also on the road. By covering them both 'home and away' they can rely on two well established companies and brands to come to their aid when they need it the most".