Figures published by the Department of Energy and Climate Change (DECC) reveal that domestic installations of solar photovoltaic panels have decreased sharply in recent weeks, leading many to conclude that the British Government's solar subsidy cuts are having a profound effect on the market.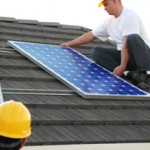 The Feed-In Tariff (FIT) was established to financially reward producers of clean solar energy. The scheme provides fixed-rate payments for households who generate their own solar electricity. Last year, the solar subsidy was worth 43.3p/kWh, but in April this year the government reduced the rate to 21p/kWh. A further reduction came into effect on the 1st August, reducing the subsidy to 16p/kWh.
Despite insisting that the UK's solar industry can survive repeated subsidy cuts, government ministers face a challenge to put a positive spin on the DECC's most recent report on installed solar capacity.
According to the figures, installed capacity rose sharply in July before plummeting ahead of the August cut. Although fewer installations were expected, the extent of the drop surprised many in government. On the 29th July, installed capacity peaked at 31,675 kW. Two weeks later, on the 12th August, installed capacity dropped to 1,976 kW.
If the government needed more evidence that fiddling with FITs has a direct effect on the number of solar photovoltaic panels being installed on homes in the UK, the public's response to the first subsidy cut in April was extreme. On the 4th March 2012, installed capacity reached 74,470 kW. One week later, capacity fell to 4,464 kW. Whilst the figures clearly suggest a fall in consumer confidence, the solar industry remains optimistic.
The Solar Trade Association's Chief Executive, Paul Barwell, said: "The returns are certainly still there because the costs have continued to come down.
"While a 4kW system has dropped in cost from around  9,000 in April to  7,500 now, tariff drops are a problem for consumers because that's what they see. August is generally a poor installation month anyway because people are away from their homes".
According to a Which? report, a 3kWh solar panel array would take approximately 14 years to pay for itself at a rate of 16p/kWh, leaving the average household with six years in which to profit from FITs.