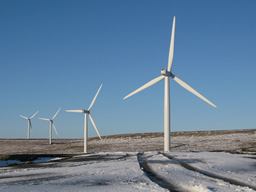 One of the UK's leading energy companies, E.ON, announced on Tuesday that planning consent had been granted by the South Lanarkshire Council for the development of its proposed Dungavel wind farm. Situated on Dungavel Hill, which lies to the south of Strathaven, the wind farm's approval is likely to stimulate employment in the region whilst it will also provide a significant amount of renewable energy for the local community.
In fact, the Dungavel Hill wind farm is estimated to produce up to 29.9 MW, which is enough to power some 20,000 homes based on the UK's average annual consumption of 4,725 kWh per home. Comprising thirteen large wind turbines, the project is also thought to reduce carbon dioxide emissions by approximately 40,000 tonnes per year, which is also based on current Government statistics.
However, whilst the approval of the Dungavel Hill wind farm project will come as good news to all those concerned about the planet, such ventures are not always met without opposition. Indeed, many a so-called NIMBY (not-in-my-back-yard) has objected to similar projects throughout the UK on the grounds that the rather unsightly wind farms spoil the environment, which ought to be preserved at all costs. Although the irony of such an argument evidently fails to dawn on protesters, it is quite clear to most ordinary folk that protecting the planet – in terms of ensuring its habitability for human beings – involves cutting carbon emissions by massive amounts.
Of course, not everybody agrees with the climate change forecasts of which they are constantly reminded. Nevertheless, there is sufficient scientific evidence to show that the protective ozone layer surrounding the planet is fast disappearing and that certain greenhouse gases – notably carbon dioxide – are chiefly to blame. Therefore, it is with considerable satisfaction that the Dungavel wind farm, which will make a significant local contribution to carbon emission targets, has been met with little opposition.