With heating bills accounting for around 60% of the average UK homeowners energy spend, it's no wonder so many of us are trying to take better control of our usage. Enter the programmable smart thermostat, one of the most popular gadgets on the home technology market. Not only do smart thermostats allow you to control your heating on the go through apps, many of them also offer a wide range of extra features to help you manage your energy use more efficiently. We took a look at 11 of the most popular options available to help you pick the right model for your home.
Hive
Price: £199 (£159 for British Gas customers)
Supplier: British Gas
One of the most budget friendly smart thermostats, Hive is a great option for those looking for a straightforward system to help take control of home energy usage. The easy to use smartphone app and website controls mean you can manage your heating from anywhere – you can even control it by text. Hive also takes advantage of geolocation technology, using your phones location to know if you are heading home and sending you a reminder to turn the boiler on before you get there.  Other features include the ability to schedule your heating, frost protection and even a child lock on the digital thermostat.
Hive is compatible with most gas, LPG and oil boilers (and some electric boilers). Probably the biggest standout feature of this model is that it also comes with water heating control at no additional cost.
Honeywell Evohome
Price: £249 kit only
Honeywell Evohome gives users control on an incredibly detailed scale. Whilst this smart thermostat might not have as many features as its competitors, you can use it to schedule your heating system by the hour and across multiple zones in your home. Each zone can be controlled using the stylish touchscreen panels or through the smartphone app.
Honeywell Evohome is compatible with gas, combi, system and LPG boilers as well as water heating and wet underfloor systems. Professional installation is highly recommended for this system as it needs to be programmed manually. If you want to control multiple zones (up to an impressive 12) you will need to factor in additional radiator controllers at £60.
Tado
Price: £199 kit only (or £7.99 per month)/ £249 with installation
Supplier: SSE
Tado aims to heat your home in the most cost effective way and its wide range of features allow it to do just that. This programmable smart thermostat fits into the learning category, getting to know your building and how it can be most efficiently heated. It will also check the weather forecast to make sure your heating adjusts accordingly. You can control your thermostat via smartphone and geolocation means Tado can use it to turn your heating down once the last resident has left, or up when you're on the way home. The second generation model now includes and LED display, so you can adjust it manually too.
Tado is compatible with a wide range of systems including combi, condensing, system and heat-only boilers. It also works with heat pumps (for heating only), water heating and underfloor systems.
Nest
Price: £179 kit only/ £249 with installation
Supplier: Npower
Nest is one of the most well-known names in smart thermostats and it's no wonder with its clever learning technology and modern design. The Nest thermostat learns your behaviour and creates a schedule based on these habits, eliminating the need for a traditional boiler programmer. Nest is also geared towards energy saving with its Leaf guide icon, which will appear on your thermostat interface when you choose an energy saving temperature for your home. The analysis you can access makes it easy to monitor your energy consumption and you will receive a monthly home report which includes usage comparisons, your Leafs, and energy tips.
Nest has most of the features you would expect from a smart thermostat in this price range including motion detection, weather responsiveness and website controls. You can also control multiple zones in your home (up to 10) at a cost of £179 per extra unit. Nest is compatible with most combi, condensing, system and heat-only boilers as well as heat pumps (for heating only).
Netatmo
Price: £199 with installation
Supplier: EDF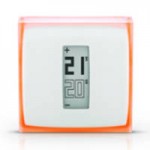 The Netatmo thermostat uses learning technology to programme heating that reflects your habits and lifestyle. It also takes into account your homes insulation and even the weather outside. The thermostat itself is one of the most stylish and colourful on the market and you can use it to manually adjust the temperature when you are at home. When you are on the go you can use the straightforward app or website to control your system. Each month you receive an Energy Savings Report outlining your consumption, helping you to schedule your boiler more effectively.
Netatmo is compatible with gas, fuel and wood boilers, as well as some heat pumps. It currently does not let you control water heating or underfloor systems.
Heatmiser Neo
Price: £199 (heating only) or £265 (heating and hot water) kit only
Heatmiser Neo offers precise zoned control of your home heating through it's easy to use app. With the possibility of adding up to 32 zones (at £69 per extra zone) Heatmiser Neo is one of the best smart thermostats on the market for large homeowners who need precise control, room by room. Whilst it doesn't offer as many features as its competitors, this model does include geolocation and allows you to control both heating and hot water (at an additional cost). The large digital temperature display and straight forward app makes Heatmiser Neo a good option for anyone wary of embracing programmable thermostats due to a lack of technical ability.
Heatmiser Neo is compatible with combi boilers, water heating and also wet and electric underfloor systems.
Heat Genius
Price: £250 kit only
Heat Genius boasts an impressive number of features and its ability to control up to 30 different zones makes it ideal for large homeowners. As a learning thermostat, Heat Genius can schedule your heating on a room by room basis so you are only warming the areas you need. If you are looking to install this smart thermostat across a number of zones in your home you will need to factor in additional radiator valves at £60. This model is also weather responsive and this feature is taken another step further with its ability to pre-heat rooms on very cold days or detect when a window or door is opened. All of this can be controlled using a smart phone app or website where you can also view detailed reports on your heating patterns and temperatures.
Heat Genius is compatible with gas, oil and biomass boilers as well as heat pumps. You can also add water heating to your package for an additional cost of £50.
OWL Intuition
Price: Price varies based on model
OWL Intuition offers a detailed level of control which allows users to set temperature period settings through the website and smartphone app. Homeowners are able to add up to 4 additional zones (at £90 each) as well as hot water heating in some models. Owl Intuition doesn't include many of the features found in its competitors, however it is weather responsive. The website dashboard shows energy consumption data, allowing users to see where they could be using less and saving money.
OWL Intuition is compatible with gas and oil boilers, as well as water heating depending on the model you choose.
Salus iT500
Price: £130 kit only
The Salus iT500 is one of the more affordable options on the market and is a great choice for anyone looking for a model that simply lets them control their heating through a smartphone, tablet or desktop. This smart thermostat doesn't include many of the features seen in its competitors but it does allow you to set 7 day programming and create 6 different time and temperature settings.
The Salus iT500 is compatible with combi and system boilers as well as water heating. It can be set to 3 different configurations depending on your needs; central heating, two central heating zones (additional sensors needed are £40) or central heating and hot water (which requires a hot water tank).
PassivLiving HEAT
Price: £279 (heating only) or £329 (heating and hot water) with installation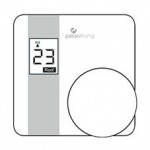 The PassivLiving HEAT system takes a straightforward approach to controlling your home heating by smartphone or website. The web portal allows you to set your boiler schedule based on 4 occupancy states; when you are in, asleep, out or away. It also provides detailed analysis so you can see information and graphs about your energy usage.
PassivLiving HEAT's simple approach means that it doesn't come with a huge number of additional features, however it does react to the weather outside and adjusts your home's temperature accordingly. There is no option for adding extra zones, but you can also control your water heating if you have a hot water tank. It is compatible with most gas, electric, oil and LPG boilers.
Climote
Price: £299 with installation (plus an optional £36 remote access fee)
Supplier: Scottish Power
Climote gives you precise remote control over your heating system through an easy to use app, website or even text. It doesn't come with a huge range of features but this makes Climote the ideal smart thermostat for anyone who wants to keep controlling their boiler simple. The straightforward approach is also reflected in installation, with no programming or extra wiring needed.
Climote is compatible with combi, gas and oil boilers as well as water heating. You can use it to control multiple zones in your home (up to 3) and this is included in the initial price.
If you want a detailed breakdown on these programmable thermostats, visit Boiler Guide's smart thermostat comparison for tables comparing features, pricing and compatible systems.