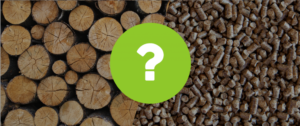 Biomass boilers are one of the solutions to lowering the carbon emissions produced by home heating. And by installing one, you'll not only be reducing your carbon footprint, you could also lower your energy costs too.
The downside to biomass boilers is their price tag – particularly in comparison to gas and oil boilers. However, it's important to look at the long term costs of a biomass boiler. The running costs relatively low (possibly even nothing) and you could be entitled to 7 years of government subsidies.
So, could a biomass boiler be right for your home? Let's take a look at the pros, cons and potential costs of biomass boilers.
How do biomass boilers work?
Biomass boilers take a tried and trusted way of producing heat – burning wood – to provide a property with central heating and domestic hot water. There are various biomass boiler models that either run on wood chips, pellets or logs.
Unlike gas boilers – the most common heating system in the UK – fuel for a biomass boiler isn't supplied on demand as and when needed. Instead, it must be stored at the property like oil.
One of the decisions you'll have to make ahead of biomass boiler installation is whether you'd be happy to feed the fuel into the boiler yourself. Some biomass boilers are fitted with a hopper which feeds the fuel into the boiler automatically.
What are the benefits of biomass boilers?
First and foremost, biomass boilers are a renewable heating system that rely on a sustainable fuel source. This in itself is a major benefit of biomass boilers as it means the supply of fuel will never run out. While more plants and trees can always be planted, sources of gas and oil are beginning to run low and the supply can't be replenished.
This leads onto another benefit of biomass boilers: fuel costs. As the supply of gas and oil gets ever lower, prices are gradually rising. The price of wood pellets and chips, however, is relatively low. Plus, if you live near a wooded area with access to wood logs then you could potentially fuel your biomass boiler for free.
Potential to lower your home heating costs
A carbon neutral process that will help to shrink your carbon footprint
Not have to replace the boiler for as long as 20-25 years
Receive RHI payments
What is the Renewable Heat Incentive?
One of the biggest benefits of installing a biomass boiler is that you could potentially receive payments through the Renewable Heat Incentive (RHI). The RHI is a government scheme designed to encourage more homeowners to turn to renewable heating.
Through the scheme, you can receive quarterly payments for the energy being generated by your renewable heating system over the course of 7 years. Eligible heating systems include:
RHI payments are amended on a quarterly basis and will vary depending on the type of renewable heating system you have installed. The table below shows tariffs based on applications submitted between 1 July 2020 and 30 September 2020.
| Renewable Heating System | Tariff (p/kWh) |
| --- | --- |
| Air Source Heat Pump | 10.85 |
| Biomass Boiler | 6.97 |
| Ground Source Heat Pump | 21.16 |
| Solar Thermal | 21.36 |
Note: In March 2022, the RHI is set to be replaced by the Clean Heat Grant. A Clean Heat Grant will offer homeowners a grant of up to £4,000 to help with the installation costs of a renewable heating system. Find out more in Clean Heat Grants for Renewable Heating.
Biomass boiler considerations
For all of their benefits, some considerations need to be made before having a biomass boiler installed. These include:
A fairly large amount of space is needed as biomass boilers are larger than gas and oil boilers
Additional space will also be needed to store the biomass fuel
With a manual biomass boiler, you will have to feed the fuel into the boiler and also clear out the ash yourself
Higher upfront cost than gas and oil boilers
How much do biomass boilers cost?
Biomass boiler costs will vary depending on whether you have a manually-fed or automatically-fed boiler. Manual biomass boilers are the most affordable option, with costs ranging £4,000 to £10,000 while automatic boilers can be priced at £9,000 to £21,000.
Compared to gas boilers, the installation of which can total £2,000, those initial biomass boiler costs could put many homeowners off installing one. However, this doesn't tell the whole story.
Before ruling out the installation of a biomass boiler because of the upfront costs, it's worth looking at the running costs.
| Fuels | Average Price (p/kWh) |
| --- | --- |
| Gas | 4.17 |
| Oil | 4.81 |
| LPG | 7.19 |
| Electricity (standard rate) | 16.36 |
| Wood chips | 2.9 |
| Wood pellets | 4.2 |
Source: The Energy Saving Trust
While Gas and oil are similar to wood pellets in the table above, the price of them is on the rise. Gas is rising by an average of around 10% each year. Biomass fuel, on the other hand, is a sustainable source that can continue to be replanted.
Remember that if you live near a woodland area you could potentially fuel your boiler for free by picking up wood logs.
Is a biomass boiler right for your home?
When it comes to biomass boilers, it could be easy to rule one out due to the upfront costs. However, you don't get the whole picture without looking at the long term costs involved. This is because biomass boiler running costs are lower than gas and oil boilers, you may be eligible to receive RHI payments and they could potentially heat your home for twice as long.
One of the key considerations to make is whether you have enough space. A biomass boiler with a hopper can require an area the size of around 10m². Then, in addition to that, you will need space for the fuel to be delivered by a supplier. Fortunately, if you don't have the room to spare in your home then a biomass boiler could be installed in an outhouse.
If your property is off-grid and you're currently fueling your home with oil then a biomass boiler is well worth considering. It's likely that you'll be familiar with the idea of storing fuel onsite and rather than a fossil fuel you could switch to biomass. This change will help to lower your energy costs and carbon footprint in the process. And if you have free access to a supply of logs then a biomass boiler would be well worth the investment.