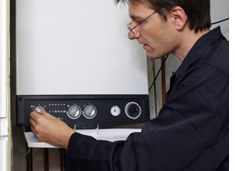 The UK government confirmed plans for its long awaited boiler scrappage scheme in its pre-budget report yesterday. The scheme is the culmination of a 10 Downing Street petition started by Mick Willaims of Williams & Co., a plumbers' merchant in the south of England and led by Sian Berry's Reheat Britain campaign .
The scheme will help secure thousands of jobs within the boiler and plumbing industry whilst saving thousands of pounds of wasted domestic energy and thousands of tonnes of carbon dioxide emissions every single year.
The scheme applies to boilers rated at 70% efficiency and less ('G' rated) and provides for a £400 incentive for the homeowner to upgrade their ageing and fuel hungry boilers. The scheme is expected to commence in early 2010 with an estimated allowance of 125,000 households. There are currently over 4.5 million inefficient boilers in the UK which will be eligible for the rebate, we've compiled a handy boiler scrappage rating check to see if you may qualify for the rebate.