Who'd have thought it; turning urine into electricity. On the surface it might seem laughable to most people, but a team of scientists in the UK believe there's a lot of potential in 'pee power'. Particularly animal urine.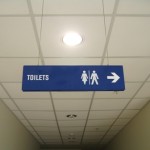 We apparently produce 2.5 litres of the decidedly unpleasant waste product daily  – 6.4 trillion litres globally. A team of scientists from the University of the West of England, in Bristol, have been conducting research into whether urine could be used in microbial fuel cells.
In a recently published paper by Dr Ioannis Ieropoulos and his team, their investigation has concluded that the waste product is rich in chemicals that can be used in the cathode half of a fuel cell to react with bacteria in the anode. The fuel cells would clean the urine, therefore leaving it safe to be discharged into the environment.
According to the paper – Urine utilisation by microbial fuel cells; energy fuel for the future – initial tests have confirmed that it is 'technically feasible' to turn urine into electricity. However, the team only managed to produce a very small amount of power, so further research will need to be conducted, which will involve looking at ways of stacking up the fuel cells which would allow the stream of urine to run through the system to produce more power.
Scientists are particularly interested in the potential power of animal pee. It's hard to conceive, but farm animals produce around 38 billion litres of urine daily. However, animal urine can be harmful to the environment if it is not properly managed, so using urine in biomass has great potential.
Biomass – a form of renewable energy – is considered to be a future key renewable resource. The term refers to any organic matter burnt as fuel that can produce heat or power.
"The impact of this could be huge, since it enables us to think of 'waste' in a new way, and offers great potential for the future," said Dr Ieropoulous.
Any method of producing energy that's less harmful to the environment in the long run certainly needs to be encouraged.