The British Government's attempt to halve solar subsidies has been ruled unlawful by the High Court following a request by three organisations for leave of judicial review, which was granted by the same court earlier just weeks earlier.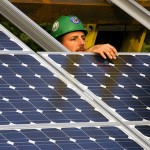 The decision, which was reached on 21 December 2011, comes after Friends of the Earth, HomeSun and Solarcentury took the decision to reduce solar subsidies from 43.3p kWh to 21p kWh to court. Following an analysis of the decision, the High Court took the view that the Government's proposals were legally flawed. Solicitors acting on behalf of the Department of Energy and Climate Change (DECC) immediately sought to appeal the ruling.
Although not against the proposal to reduce solar subsidies, Friends of the Earth is opposed to the way in which the matter has been handled by the Government, which chose to halve subsidies with very little notice and mid-way through a consultation on the subject.
Andy Atkins, Executive Director of Friends of the Earth, said: "These botched and illegal plans have cast a huge shadow over the solar industry, jeopardising thousands of jobs. Solar payments should fall in line with falling installation costs but the speed of the Government's proposals threatened to devastate the entire industry".
By ruling in favour of the solar industry challenge, anyone who registers for the feed-in tariff (FiTs) between now and and the end of March is legally entitled to receive the current 43.3 subsidy rate for the full 25 year length of the scheme. However, the Government is set to appeal the decision. The December deadline could be reinstated if their appeal is successful, meaning anyone registered after 12 December 2011 would only be entitled to the higher rate until 31 March 2012.
The Government has also been criticised for proposing a further change that would threaten community projects to install solar photovoltaic panels, which harness energy from the sun before converting it into electricity. According to reports, the UK's "greenest ever" Government is planning to lower the new tariff of 21p by as much as 80 per cent for renewable generates who register more than one unit for FiTs.
Following a consultation, MPs said: "This could have a disproportionate impact on disadvantaged and poorer communities for whom such schemes are a good way of accessing the benefits of renewable energy and reducing electricity costs".
Meanwhile, Tim Yeo, who chairs the energy and climate change committee, reiterated the need for a reduction in solar subsidies. Mr Yeo said: "There is no question that solar subsidies needed to be urgently reduced, but the Government has handled this clumsily. Ministers should have spotted the solar gold rush much earlier. That way, subsidy levels could have been reduced in a more orderly way".
There's no denying that the High Court blocking solar subsidy cuts is some much needed good news for the UK solar industry. But at what cost?