A family from Barrowford, Lancashire, has described the difficulties faced in securing financial assistance to pay for central heating bills.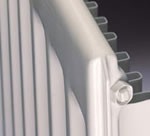 Mr and Mrs McDonald-Noble were left with little option but to seek help when their young son, Nathaniel, was diagnosed with Cri du Chat Syndrome, a genetic disorder that causes his body to struggle with even slight changes in temperature.
Severely disabled both mentally and physically, Nathaniel is unable to properly regulate his body temperature, meaning that his parents are forced to keep the family home warm on a constant basis. Whilst most households are learning to use central heating more sparingly in an age of increasing fuel poverty, Mr and Mrs McDonald-Noble have no alternative but to keep the heating up high for 24 hours a day.
Despite help being provided for low-income families, Mr and Mrs McDonald-Noble both work and do not qualify for most means-tested benefits that are made available to other households. The high cost of gas is proving a significant drain on the couple's resources, however, which is why help has been sought to pay the bills. Unfortunately, help has not been forthcoming to date.
Mr McDonald-Noble explained: "We have to keep the house really warm for [Nathaniel] and winter is an especially difficult time. He gets cold and can turn blue quite easily, just coming out of the bath and things like that.
Since Nathaniel was born our heating bills have doubled. There is help available, but just getting to what's available is really difficult. The whole system is a minefield with no clarity on what is or isn't available".
Pendle Borough Council has promised to look into the possibility of providing a special grant for the McDonald-Noble family, despite the fact that Nathaniel receives Disability Living Allowance. The salient point to note from the couple's struggle is not only that help from local government and energy companies can be difficult to obtain but that some families cannot afford to save on heating.
Although most households can survive comfortably with reduced reliance on heating, Nathaniel's parents must do all they can to ensure a warm environment for their son, which could be made more affordable by installing loft and cavity wall insulation to limit heat loss.