It must be a case of 'waste not, want not' for Britain's largest water and sewerage company, as Thames Water has announced plans to use human waste to generate electricity.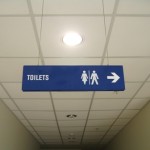 It burns like wood-chip, looks just like instant coffee granules and is a highly combustible new renewable form of fuel, and Thames Water has estimated that around 16% of electricity means are going to be met by so-called poo power. That's enough to run around 40,000 average family homes.
The process is thought to be the first of its kind in the UK, and the water company has already begun producing the brown, granular flakes from solids extracted from sewage at its works in Slough, Berkshire. On any given day, the facility produces approximately five tonnes of sewage sludge for conversion to fuel chips or flakes, which are produced after the sludge is heated to 180C, before being transported to a specialist facility in Bexley, south east London, where they are used to produce electricity. How green this process actually is remains a mystery, but the resulting flakes are burned to produce electricity, so the technique is certainly not carbon-free.
Nevertheless, the initiative provides a superb example of how waste products can be used to produce energy. As oil reserves are rapidly depleted, the UK's reliance on fossil fuels is causing major concern among politicians and environmental campaigners; therefore, using human excrement to power the country – or at least a part of it – is undoubtedly sensible.
"This is the first time in Britain that a waste dryer has been used to create ready-to-burn fuel from sewage sludge, rather than simply being used as a waste-reducer," explained Rupert Kruger, Head of Innovation at Thames Water.
"This innovative approach demonstrates our clear intent to help move Britain towards becoming a low-carbon economy by unlocking every ounce of renewable energy potential from waste".
Whether poo power is set for use in the home remains to be seen, but any method of producing domestic energy at relatively little cost to the environment ought to be encouraged. The financial costs of electricity and gas central heating are already extreme, so perhaps energy companies could spare customers a few pennies by investing in a technology that stinks almost as much as some of their pricing strategies.