With the winter months fast approaching, energy consumers already struggling to meet the demands of rising gas and electricity costs are facing more worry when it comes to ensuring they stay warm and healthy this winter.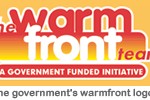 But for the most vulnerable members of society – the elderly and low income households – there is help at hand , thanks to a variety of schemes and incentives. One of which is the Government's Warm Front Scheme.
Whether you're in need of a new boiler to replace your old energy inefficient model, or would like to install loft insulation or cavity wall insulation, but cannot afford the up-front costs involved, the Warm Front Scheme can provide grants to householders who reside in poorly insulated or badly heated homes. If you're eligible to benefit from the scheme you can apply for a grant of up to £3,500 or up to £6,000 if your property is not main gas connected.
"With the coldest months of the year fast approaching, there's never been a better time for people on low incomes to pick up the phone and apply for a Warm Front grant," advises Energy and Climate Change Minister, Greg Barker.
This year the Government has made more than £110 million available in funding, and another £100 million has already been allocated for 2012/13.
It's estimated that around 90,000 people will take advantage of the Warm Front grant scheme over the next two years.
For more about the scheme, visit www.direct.gov.uk